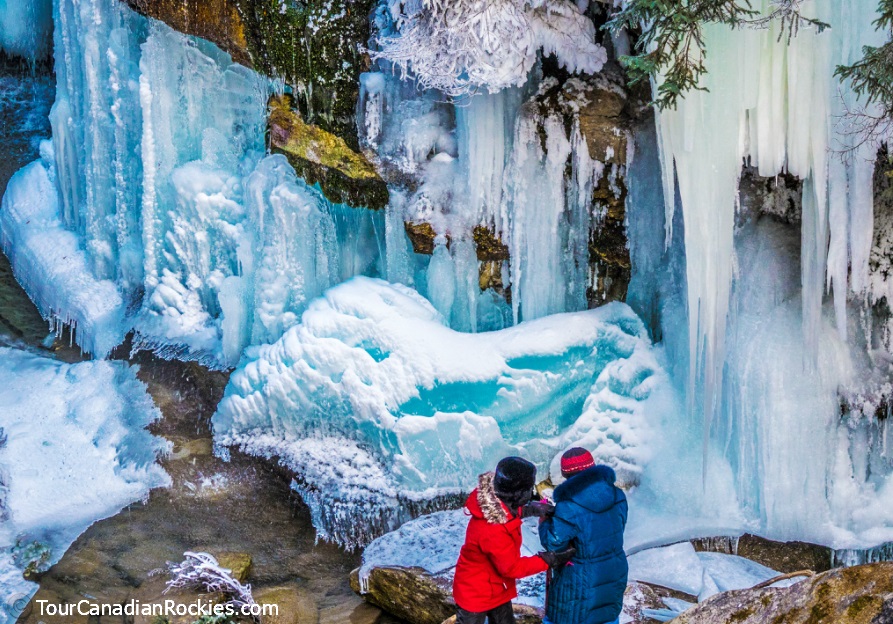 Explore Maligne Canyon from the ground up on an Ice Walk adventure!
The Maligne Canyon Icewalk is designated as a signature experience by the Canadian Tourism Commission, due to its unique geological features and outstanding beauty.

Your Ice Walk tour guide will take you to the bottom of the Maligne Canyon - the deepest accessible canyon in Jasper National Park. Explore frozen waterfalls, ice caves, and incredible ice formations. You will learn about Jasper's Maligne Valley, Karst topography, and the mystery of the "disappearing" Medicine Lake. Don't miss Jasper's amazing Maligne Ice Walk winter adventure!

Includes: Local hotel pick-up and drop-off, ice cleats, winter boots, helmets and head lamps when needed.
Booking, Reviews, More..
Maligne Canyon Daily icewalk tour duration is 3 hours which includes 2 hours of walking at a relaxed pace. The Maligne Canyon Ice Walk is Suitable for Ages 7 and above.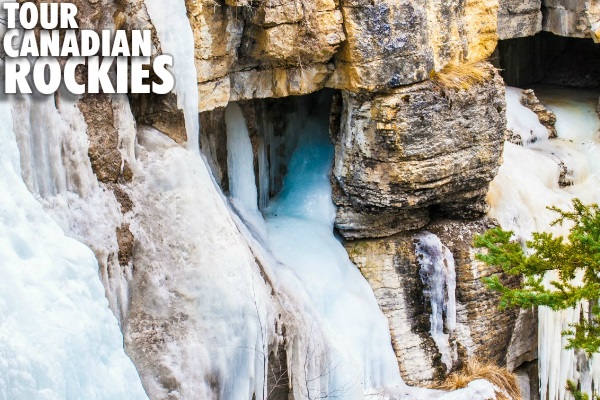 Complimentary Jasper hotel transfers are included. Your Maligne Ice Walk adventure begins with pickup from your Jasper hotel in the morning or afternoon (depending on option selected), where you board a minibus destined for Jasper National Park. Please be ready in the hotel lobby at your designated pickup time.
Select Your Dates..

Maligne Canyon Ice Walk Highlights..
- Soak up the atmosphere on a walking tour
- Small group ensures personal service
- Informative, friendly and professional guide
- All necessary equipment included
- Morning or Aftrenoon Ice Walk times offered
- Free hotel pickup and drop-off included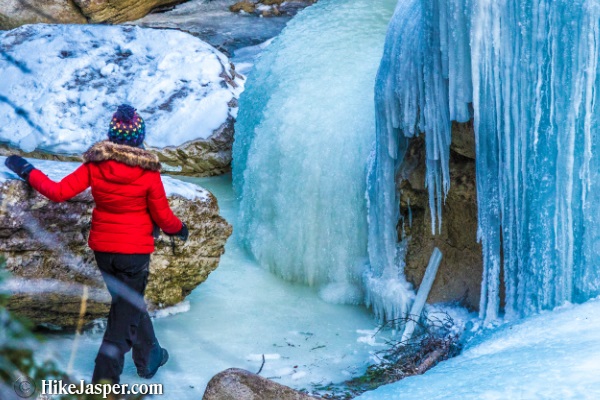 You'll be safely led by your knowledgeable, local guide into heart of frozen Maligne canyon where its sheer limestone walls reach more than 30 meters above. The winter freeze has caused the raging flow of water, funneling through this narrow canyon, to be brought to a dramatic halt. Waterfalls that drop from the canyon rim are frozen mid-flow, cascading down into a spectacular spray of icy daggers.
More on Jasper's Maligne Canyon Ice Walk »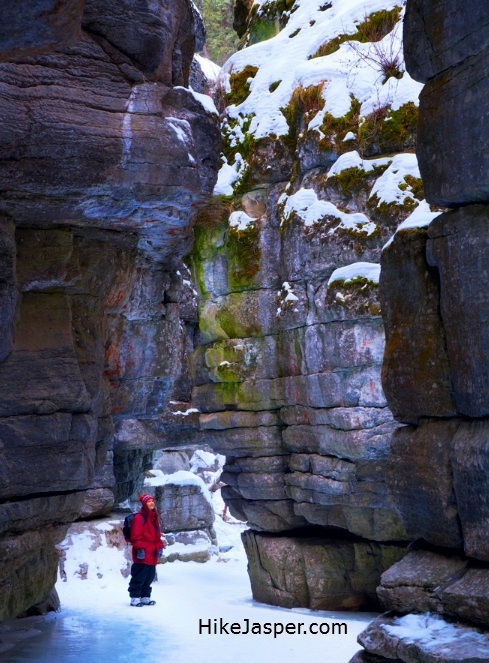 Following a short drive, don warm hiking boots and begin the downhill route into the heart of Maligne Canyon. While your guide provides naturalist commentary, encounter ice caves, rock formations, and frozen waterfalls, and discover the mystery of the disappearing Maligne Valley. Following your hike, you are transferred back to a central point in Jasper.

You will have plenty of time to absorb and photograph the majestic surroundings. During the tour, your local guide will reveal interesting geological facts while shedding light on the secrets held deep beneath the canyon floor.

View Booking Details..

View on Hike Jasper..
Maligne Canyon Ice Walk Inclusions..

- Jasper Hotel Pick-Up and Drop-Off
Equipment: Warm winter boots, tread enhancing cleats, helmets and head lamps (for 6pm tour only)
- Jasper professional interpretive guide
- 3-hour tour including a moderate Icewalk

Confirmation will be received within 48 hours of booking, subject to availability