Explore new heights in Jasper National Park aboard the area's famous Jasper SkyTram. Soar above Jasper Park's sub-alpine vegetation, watching for wildlife down below, as you gently climb towards the upper station located at 7,425 feet (2,263m) above sea level. The family-friendly SkyTram ride is the perfect experience for guests of all ages in Jasper.

Jasper SkyTram operates from late March through to the end of October.


*Ride the longest and highest guided aerial tramway in Canada's Rockies.
*Gain a new perspective on Jasper's UNESCO Canadian Rockies World Heritage Site.
*Explore Whistlers alpine tundra and view a wide array of Jasper Wildlife.
*Rent some snowshoes at the upper station in the early season.
*Hike Whistlers 1.4 km Summit Trail to the Mountain peak.
*Enjoy a meal at the top of the Canadian Rockies in the Summit Restaurant.
Booking, Reviews, More..
Take an unforgettable ride up Whistlers Mountain on the Jasper SkyTram, the longest and highest guided aerial tramway in all of Canada. The sky-high trip, offers incredible views of six different Jasper mountain ranges, the town of Jasper, numerous lakes and the Athabasca River.

The SkyTram is perfect for the whole family. Arrive at the SkyTram any time during the attraction's opening hours. Board your enclosed tram car for the ride to the top of Whistlers Mountain. An experienced and knowledgeable guide will accompany you on your trip, sharing a few insights about the area, Jasper's history and the wealth of wildlife nearby.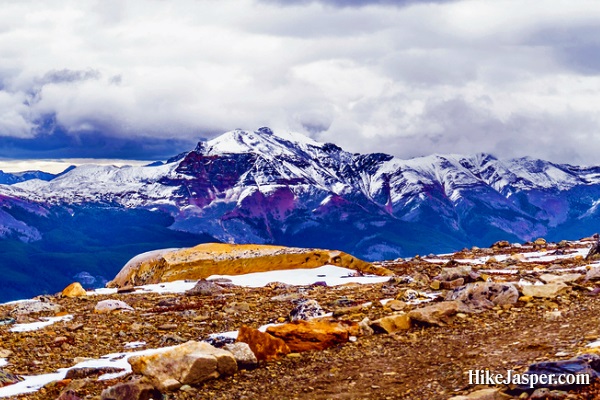 Over the course of your seven-minute ride, ascend to a height of 7,425 feet (2,263m) above sea level, enjoying incredible views of the surrounding mountain ranges as you climb. Soon you arrive at the alpine upper station, where you can take in panoramic views of the surrounding landscapes.
Select Your Dates..

Jasper Skytram Departure Times
3/25/2022 - 5/19/2022
Monday - Sunday: 10:00 AM - 05:00 PM

5/20/2022 - 6/23/2022
Monday - Sunday: 09:00 AM - 08:00 PM

6/24/2022 - 9/5/2022
Monday - Sunday: 10:00 AM - 07:00 PM

9/6/2022 - 10/30/2022
Monday - Sunday: 10:00 AM - 05:00 PM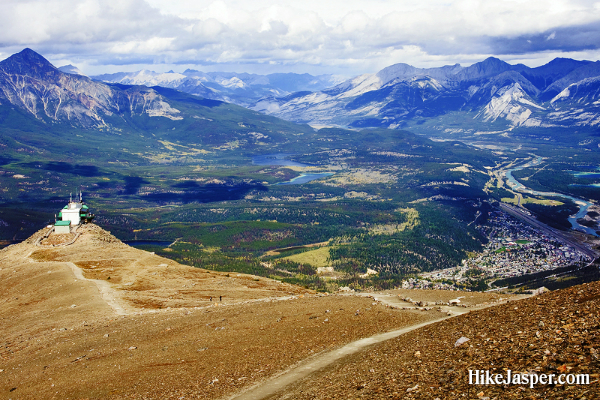 Make sure to take a stroll on the boardwalk and the 1.4km Summit Trail to the top of Whistlers Mountain at 8,081 feet (2,463m) where you can view six Jasper Park mountain ranges. You might spot a ptarmigan, ground squirrels, hoary marmots (famous for their whistling alerts), pikas and sometimes even bighorn sheep along the way.
More on Jasper's Whistlers Mountain SkyTram »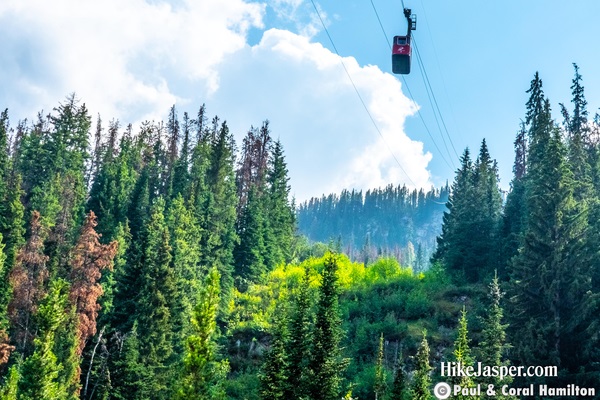 Before you leave the mountain, make sure to stop at the Summit Restaurant for a meal at the top of the Canadian Rockies. Visit the gift shops at the upper or lower stations, where you can purchase a souvenir for friends back home of your memorable trip.

View Booking Details..

Whistlers Mountain SkyTram