Victoria Popular Tours - Canadian Rockies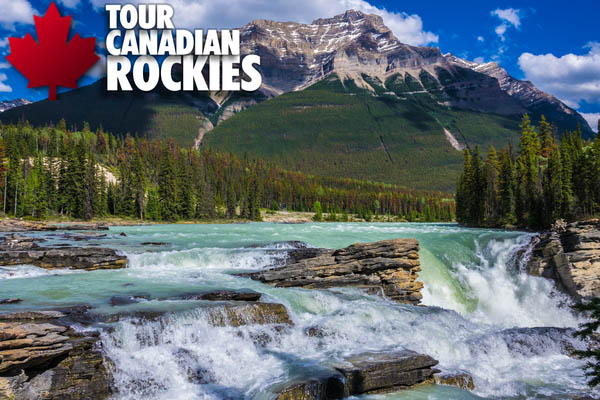 The Victoria Canadian Rockies region is a picturesque and captivating destination located in the western part of Canada, encompassing the province of British Columbia. This region offers a diverse range of natural beauty, outdoor activities, cultural attractions, and stunning landscapes.
Victoria, the capital city of British Columbia, is situated on Vancouver Island and is known for its charming blend of British colonial architecture, beautiful gardens, and a vibrant harbor. Visitors can explore the iconic Inner Harbour, visit the historic Parliament Buildings, take a stroll through the famous Butchart Gardens, or enjoy a whale watching tour to spot magnificent marine wildlife.
Moving towards the Canadian Rockies, which are part of the larger Rocky Mountains range, you'll encounter breathtaking mountain vistas, crystal-clear lakes, and lush forests. The Canadian Rockies are renowned for their stunning national parks, including Banff National Park, Jasper National Park, Yoho National Park, and Kootenay National Park.
The Victoria Canadian Rockies region is a paradise for nature lovers and adventure enthusiasts, offering a perfect blend of awe-inspiring landscapes, outdoor activities, and cultural experiences. Whether you visit for a short getaway or an extended vacation, this region promises unforgettable memories and a true appreciation for Canada's natural beauty.
1 Day Hop on Hop off Sightseeing Tour with Robert Bateman Centre Combo
1 Hour Luxury City Tour of Victoria
2 Hour Luxury City Tour of Victoria
2 Hour Swartz Bay Kayak Tour and Restaurant Lunch
30 Minute Heritage Horse Drawn Carriage Tour
3 Hour Swartz Bay Kayak Tour and Restaurant Lunch
3 Hour Victoria Electric Bike Rental Delivered
45 Minute Beacon Hill Park Horse Drawn Carriage Tour
60 Minute Deluxe Horse Drawn Carriage Tour
75 Minute Grand Horse Drawn Carriage Tour
8 Hour Victoria Electric Bike Rental Delivered
90 Minute Premier Horse Drawn Carriage Tour
Beacon Hill Park Carriage Tour
Best of Victoria Food Tour
Best of Victoria SIP Tour
Big Bus Victoria Hop On Hop Off City Tour
Brentwood Bay Guided Kayak Tours
Brentwood Bay Kayak Tour and Butchart Gardens Visit
Brentwood Bay Kayak Tour and Restaurant Lunch
Brentwood Bay Kayak Tour and Wine Tasting
Butchart Gardens Butterflies Beyond
Butchart Gardens Luxury Evening Experience Seaplane Flight and 3 Course Dinner
Butchart Gardens Tour from Victoria
Chinatown and Hidden Alleys Pedicab Tour
Chocolates and Whisky
Christmas in Victoria and the Butchart Gardens
Christmas Lights Tour and Butchart Gardens
Coach Transfer from Downtown Victoria to Downtown Vancouver
Coach Transfer from Downtown Victoria to Downtown Vancouver Hotels
Coach Transfer from Downtown Victoria to Vancouver International Airport
Combo Butchart Gardens Wine Tour Vancouver Island
Combo Pass Hop on Hop Bus Tour Butchart Gardens Shuttle Pass Wed Sun Only
Combo Pass Hop on Hop Bus Tour Craigdorrach Castle Pass
Combo Pass Hop on Hop Bus Tour Royal BC Museum Pass
Cowichan Valley Wine Tasting Explore Vancouver Island s New Wine Appelation
Cowichan Valley Wine Tour in Vancouver Island
Cowichan Valley Wine Tours from Victoria
Craft Vine Orchard Stills
Craigdarroch Castle Pedicab Tour
Discover Sooke to Port Renfrew
Discovery Island Kayak Tour
Downtown Victoria Craft Beer and Culinary Tour
Food and Bev Tour in Victoria with Lunch and Tasting
Fort Street Food Walking Tour in Victoria
Ghostly Walking Tour in Victoria
Great Canadian Food Tour Eh
Historical Chinatown Walking Tour
Historical Victoria Walking Tour
Historic Downtown Victoria Food Tour
Historic Tour Around Town
Introductory Brewery and Distillery Tour
Marine Wildlife Tour by Zodiac
Marine Wildlife Tour with Expert Guides
Natural Beauty Tour
Nature In The City Of Victoria BC
Operation City Quest Scavenger Hunt Victoria BC
Pedicab Tour from Victoria Cruise Ship Terminal
Private Back Country Drive to Butchart Gardens
Private Butchart Gardens and Victoria Half Day Tour
Private Tour Butchart Gardens and Saanich Peninsula
Private Victoria Drive and Walk Excursion
Private Zodiac Whale Watching Adventure
Pub tours in Victoria
Royal BC Museum Entrance Ticket
Seaplane Flight to Vancouver with Bus Tour from Victoria
Summer Sunset Whales and Wildlife Tour in Vancouver Island
Summer Whale Watching on Vancouver Island
Tastes of Victoria Bike Tours
The Robert Bateman Centre Admission Ticket
The Royal Carriage Tour
The Ultimate Group Package Deal of Victoria
Top of Gowlland Tod Hike in Victoria
Vancouver Island Rainforest Guided Hike with Private Guide
Vancouver Island s Ultimate Full Day Whale and Wildlife Tour
Victoria 4 Ever Wild Sunset Whale Watching Tour
Victoria Audio Tour
Victoria Butterfly Gardens
Victoria Carriage Tour Including James Bay
Victoria Castles and Neighborhoods Bike Tour
Victoria City and Butchart Gardens Private Half Day Tour
Victoria City Sightseeing Tour with Craigdarroch Castle
Victoria Classic Adventure Course
Victoria Craft Beer and Distillery Tour
Victoria Craft Brewery Tour
Victoria Craft Brewery Tour and Tastings
Victoria Guided Food and History Tour
Victoria Harbour Kayak Tour
Victoria Harbour Stand Up Paddleboard Tour
Victoria Harbour Sunset Kayak Tour
Victoria in One Day Sightseeing Tour
Victoria Kayaking and Butterfly Gardens Tour
Victoria Kids Aerial Adventure Course
Victoria Marine Wildlife Tour
Victorian Gardens and Seaside Vistas Pedicab Tour
Victoria Oak Bay Shoreline Kayak Tour
Victoria Panorama Seaplane Tour
Victoria Shore Excursion Castles and Neighborhoods Bike Tour
Victoria Shore Excursion Tastes of Victoria Bike Tours
Victoria Shore Excursion Whale Watching Cruise and Butchart Gardens Admission
Victoria Shore Excursion Whale Watching Cruise with Expert Naturalist Guides
Victoria Sunset Whale Watching Cruise
Victoria to Cowichan Valley Wine Tour
Victoria to Seattle High Speed Passenger Ferry ONE WAY
Victoria to Vancouver Tour with Butchart Gardens Admission and Sunset Cruise to Vancouver
Victoria to Whistler Scenic Flight
Victoria Whale and Wildlife Cruise
Victoria Whale Watching Adventure in a Covered Vessel
Victoria Whale Watching Adventure in a Zodiac Vessel
Victoria Whale Watching Tour by Zodiac
Victoria Whale Watching Tour on a Covered Vessel
Victoria Whale Watch Tour
Victoria Wine and Whales Combo Tour
Victoria Wine Tour
Victoria Zodiac Boat Whale Watching Tour
Waterfalls Cathedral Grove Rainforest and Coombs Private Tour with Hiking
Whale Watching and Butchart Gardens
Whale Watching Cruise from Victoria and Butchart Gardens Admission
Whale Watching Cruise from Victoria to Vancouver
Whale Watching Cruise with Expert Naturalists
Whale Watching with Butchart Gardens and Butterfly Gardens from Victoria
Zodiac Whale Watching Marine Wildlife Excursion from Victoria
Zombie Scavengers Game Victoria BC