Jasper Popular Tours - Canadian Rockies
Jasper is a popular tourist destination located in the Canadian Rockies of Alberta, Canada. It is part of the larger Jasper National Park, which is recognized as a UNESCO World Heritage site. Jasper is known for its stunning natural beauty, including majestic mountains, crystal-clear lakes, and abundant wildlife.
Here are some key highlights and attractions of Jasper tourism:
Scenic Beauty: Jasper is renowned for its breathtaking landscapes. The town is surrounded by towering mountains, including the iconic peaks of the Canadian Rockies such as Mount Edith Cavell, Pyramid Mountain, and Whistlers Mountain. Visitors can explore scenic drives like the Icefields Parkway, which offers stunning views of glaciers, waterfalls, and alpine meadows.
Outdoor Activities:
Jasper offers a wide range of outdoor activities for nature enthusiasts. Hiking is particularly popular, with numerous trails catering to all skill levels. Some notable hikes include the Valley of the Five Lakes, Sulphur Skyline, and the famous Path of the Glacier Trail. Other activities include wildlife spotting, fishing, canoeing, kayaking, mountain biking, and horseback riding.
Wildlife Viewing:
Jasper is home to an abundance of wildlife, making it a haven for nature lovers. Visitors have the opportunity to spot animals such as black bears, grizzly bears, elk, moose, mountain goats, bighorn sheep, and wolves. The Maligne Lake area is especially known for its wildlife sightings, including bald eagles and mountain caribou.
Maligne Lake:
Maligne Lake is one of the most picturesque spots in Jasper. It is the largest natural lake in the Canadian Rockies and offers stunning turquoise waters surrounded by snow-capped peaks. Visitors can take boat tours to Spirit Island, which is an iconic landmark and a photographer's delight.
Athabasca Falls:
Located along the Icefields Parkway, Athabasca Falls is a powerful waterfall that showcases the raw beauty of nature. The falls cascade over a series of rocky steps and create a dramatic scene. There are well-maintained viewing platforms that allow visitors to observe the falls up close.
Jasper SkyTram:
For panoramic views of the surrounding mountains and valleys, the Jasper SkyTram is a must-visit attraction. It is the longest and highest guided aerial tramway in Canada, taking visitors to the summit of Whistlers Mountain. From the top, you can enjoy breathtaking vistas and explore various hiking trails.
Dark Sky Preserve:
Jasper National Park is designated as a Dark Sky Preserve, making it an ideal destination for stargazing. With minimal light pollution, the park offers exceptional opportunities to observe the night sky and marvel at the brilliance of stars, planets, and even the Northern Lights.
Jasper Townsite:
The town of Jasper itself is charming, with a welcoming atmosphere and a range of amenities for visitors. It offers a variety of accommodations, restaurants, cafes, and shops. You can stroll through the streets, explore local art galleries, or simply enjoy the mountain town ambiance.
Jasper Tourism offers a memorable experience for outdoor enthusiasts, nature lovers, and those seeking tranquility amidst stunning natural landscapes. Whether you're looking for adventure, relaxation, or an escape into nature, Jasper has something to offer for everyone.
b>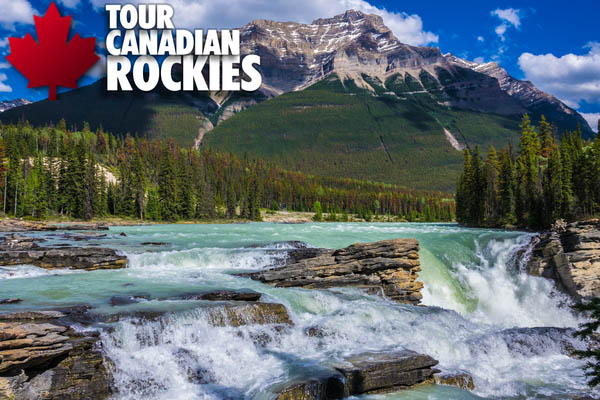 Glacier Skywalk
Guided Glacier Hike on The Athabasca with IceWalks
Glacier Skywalk and Athabasca Glacier Tour from Icefield Glacier Discovery Centre
Athabasca River Rafting
Maligne Ice Walk
Whistlers Mountain Skytram
Glacier Day Tour Calgary Bow Lake Columbia Icefield
Columbia Icefield Tour Glacier Skywalk from Banff
Jasper Columbia Icefield Maligne Lake Tour
Rocky Mountain Train Tickets
Rocky Mountaineer Train Tickets
VIA Rail Mountain Train Tickets
3.5 Hour Sunwapta River Rafting Adventure in Jasper
3 Hour Maligne Canyon Ice walk from Jasper
5.5 Hour Jasper Wildlife and Waterfalls Tour with Maligne Lake Cruise from Jasper
Athabasca Canyon Run Family Rafting Class II Plus Rapids
Athabasca Glacier Full Day Tour
Athabasca River Canyon Morning Run
Athabasca River Mile 5 Morning Rafting Trip
Athabasca River Scenic Float Trip
Canadian Rockies Tour by Chauffeured Sidecar from Jasper
Columbia Icefield Tour including the Glacier Skywalk from Jasper
Glacier Skywalk Admission
Ice Explorer Glacier Tour and Glacier Skywalk
Icefields Parkway Sidecar Ride and Champagne Helicopter Flight
Jasper City Sightseeing Tour
Jasper City Sightseeing Tour and Maligne Lake Cruise
Jasper Evening Wildlife Tour
Jasper Food Tour
Jasper National Park Tour Maligne Valley Medicine Lake and Spirit Island
Jasper Rafting Athabasca Canyon Run
Jasper Rafting Trip on Athabasca River Mile 5
Jasper Rock Climbing Experience
Jasper SkyTram
Jasper Summer Wildlife Discovery Tour
Jasper to Banff One Way Tour
Jasper to Lake Louise One Way Tour
Jasper Wildlife and Waterfalls Tour with Maligne Lake Hike
Jasper Winter Wildlife Search
Maligne Canyon Ice Walk in Jasper
Maligne Lake Cruise
Pyramid Lake Canoeing Adventure
Shared Transfer Jasper to Edmonton Airport or Edmonton Mall
Sunwapta Challenge Whitewater Rafting Class III Rapids
Sunwapta River Self Drive Rafting Trip
Ultimate Jasper Interpretive Nature Walk
Whitewater Rafting on Jasper s Fraser River
Winter Wildlife Discovery Tour