Whistler Popular Tours - Canadian Rockies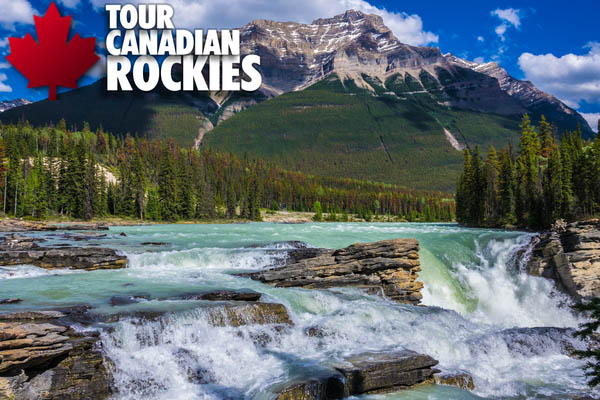 Whistler is a popular tourist destination located in the Canadian Rockies of British Columbia, Canada. It is renowned for its stunning natural beauty, world-class skiing, and outdoor recreational activities.
Let's explore Whistler's tourism offerings in more detail:
Skiing and Snowboarding:
Whistler is known for its exceptional ski slopes, making it one of the top winter sports destinations in North America. It hosted the alpine skiing events during the 2010 Winter Olympics. The Whistler Blackcomb ski resort offers a vast terrain suitable for all skill levels, with over 200 marked trails, various terrain parks, and heli-skiing opportunities.
Outdoor Recreation:
Beyond skiing, Whistler offers a wealth of outdoor activities throughout the year. Visitors can enjoy snowshoeing, snowmobiling, ice climbing, and winter zip-lining during the colder months. In the summer, activities include hiking, mountain biking, golfing, zip-lining, fishing, kayaking, and white-water rafting.
Whistler Village:
The heart of the resort community is Whistler Village, a pedestrian-friendly area featuring a vibrant atmosphere. The village is dotted with shops, boutiques, galleries, restaurants, cafes, and bars. It offers a wide range of accommodation options, from luxury resorts to cozy lodges, providing a comfortable stay for visitors.
Peak 2 Peak Gondola:
Whistler is home to the record-breaking Peak 2 Peak Gondola, an engineering marvel that connects the peaks of Whistler and Blackcomb Mountains. This 4.4-kilometer (2.7-mile) gondola ride offers breathtaking panoramic views of the surrounding mountains, forests, and valleys.
Cultural Experiences:
Whistler embraces its indigenous heritage and offers opportunities to learn about the local First Nations culture. The Squamish Lil'wat Cultural Centre provides insight into the traditions, art, and history of the Squamish and Lil'wat Nations through exhibits, workshops, and performances.
Festivals and Events:
Whistler hosts various festivals and events throughout the year, enhancing the visitor experience. These include the Whistler Film Festival, Crankworx Mountain Bike Festival, Whistler Village Beer Festival, Whistler Children's Festival, and many more.
Wellness and Relaxation:
Whistler boasts several spas and wellness centers where visitors can unwind and rejuvenate. From massages to yoga classes, hot tubs to saunas, there are ample options to pamper oneself after a day of outdoor activities.
Scenic Beauty:
The natural beauty surrounding Whistler is truly captivating. Towering mountain peaks, dense forests, glacial lakes, and cascading waterfalls create a picturesque setting. Iconic landmarks such as Black Tusk, Garibaldi Provincial Park, and Lost Lake showcase the area's stunning landscapes.
Whistler Canadian Rockies Tourism offers a wide array of experiences and adventures, attracting visitors from around the world throughout the year. Whether you're an outdoor enthusiast, a thrill-seeker, or someone seeking relaxation amidst breathtaking scenery, Whistler provides an unforgettable destination for all.
1 Hour Guided Axe Throwing Experience in Whistler
1 or 2 Hour Horseback Ride in Pemberton
3 Day Historic Li lik hel Mine Expedition
3 Day Tenquille Lake Expedition
3 Hour Ice Fishing Experience
Advanced Backcountry Snowmobile Expedition
Audain Art Museum Admission
Blackcomb Glacier Safari by Jeep 4x4
Blackcomb Mountain Winter Snowmobile Tour
Blackcomb Sunset Jeep Tour
Callaghan Valley Winter Snowmobile Tour
Call of the Wild ATV Tour
Coach Transfer from Whistler to Vancouver International Airport
Coach Transfer from Whistler Village to Downtown Vancouver
Crystal Hut Fondue by Snowcat
Crystal Hut Fondue by Snowmobile
Fine Dining Dinner Tour in Whistler
Full Day Guided Horseback Trip
Full Day Ice Fishing in Whistler or Pemberton
Glacier Sightseeing Experience by Floatplane from Whistler
Guided Electric Bike Tour in Whistler
Half Day Guided Horseback Ride at Birkenhead Lake
Junior Ski Rental Package from Whistler
Junior Snowboard Rental Package from Whistler
Medicine Trail Snowshoe Tour
Mountain Explorer ATV Tour
One Hour Private Booking 4 15 people
Pemberton Half Day Trolling Tour
Performance Snowboard Rental Package from Whistler
Private Transport from Whistler to Downtown Vancouver
Private Transport from Whistler to Vancouver International Airport YVR
River of Golden Dreams Canoe Tour in Whistler
RZR Off Roading Tours from Whistler
Snowmobile Trailblazer Tour for Advanced Riders
Teen Ski Rental Package from Whistler
The Essential Whistler Tasting and Cultural Walking Tour
Treetop Adventure Course
Treetop Canopy Walk in Whistler
Two and a Half Hour Large Party Booking 12 32 People
Two and a Half Hour XL Party Booking 25 75 People
Whistler Alpine Picnic Helicopter Tour
Whistler ATV Bushwacker Tour
Whistler Backcountry Skiing and Splitboarding
Whistler Bar Hop Tour
Whistler Blackcomb Salmon Bake Dinner and ATV Tour
Whistler Blackcomb Salmon Bake Dinner and Jeep 4x4 Tour
Whistler Club Crawl
Whistler Electric Bike Tour ebike
Whistler Fishing Adventure Half Day
Whistler Flightseeing Tour with Alpine Lake Landing and Optional Lunch
Whistler Full Day Fly Fishing
Whistler Full Day Mountain Bike Tour
Whistler Full Day Spin Fishing
Whistler Glacier Ascent Hike
Whistler Glacier Discovery Tour
Whistler Half Day Fly Fishing
Whistler Half Day Mountain Bike Tour
Whistler Half Day Spin Fishing
Whistler Helicopter Tour
Whistler Intro to Backcountry Skiing and Splitboarding
Whistler Odyssey Tour Off Road Buggy Adventure
Whistler Premium Ski Rental Including Delivery
Whistler Premium Snowboard Rental Including Delivery
Whistler Sasquatch Zipline
Whistler s Hidden Gems Dinner Tour
Whistler Singletrack Mountain Bike Tour
Whistler Ski Rental Package Including Delivery
Whistler Sky Walk
Whistler Snowboard Rental Package Including Delivery
Whistler Snowshoeing Adventure with Optional Peak 2 Peak Ticket
Whistler Superfly Ziplines
Whistler to Vancouver Scenic Flight
Whistler to Victoria Scenic Flight
Whistler Via Ferrata Tour
Whistler White Water Rafting
Whistler Wilderness Adventure Snowmobile Tour
Whistler Wilderness Snowmobile Run
Wild Spirit Snowshoe Tour
Yukon Breakfast Snowmobile Tour
Zipline Adventure in Whistler